335 ORCHARD LANE
BILLINGS, MT 59101
Phone:  406-248-2463
Website:  www.arrowstriping.com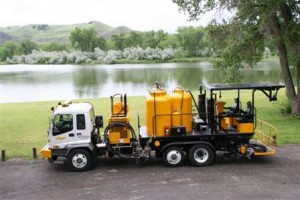 Arrow Striping & Manufacturing:
Arrow Striping & Manufacturing, Inc. was created in 1993 by local residents Kymm & Steve Stark of Huntley and their partners Natalie & Mark Heinzeroth of Billings.  The company installs and removes pavement markings on city, county, state and federal roadways and airports in Montana and the surrounding area.  Arrow also designs and manufactures pavement marking equipment for other striping companies across the United States.  Arrow currently has 25 employees.  Ten of Arrow's employees commute to work from the Huntley, Shepherd, Worden, Bridger, Broadview and Park City areas.
View full image of Striping & Manufacturing, Inc Ad below.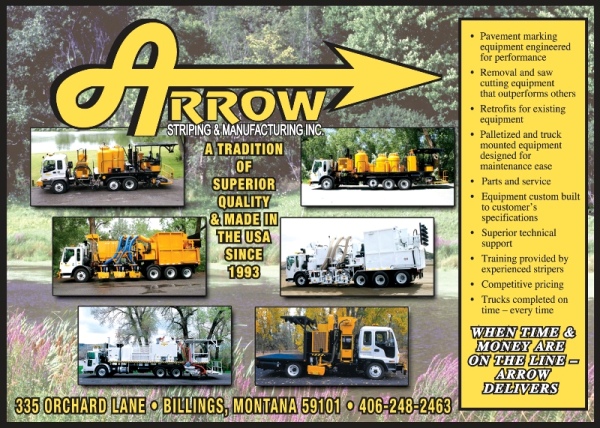 Mission Statement
Arrow Striping & Manufacturing is a construction and manufacturing company most proud of and admired for its people, products and performance.  We are devoted to remain in a market leadership position through continued new product development and innovation as well as superior customer service and support. We pursue this mission by having employees who set the highest standards in reliability, quality, safety and cost containment.
Our culture is supported by a firm belief in maintaining integrity and fair dealings in all aspects of our operations.  Having successfully built a solid foundation as a manufacturer and contractor, we are uniquely positioned to design, manufacture, and deliver pavement marking application and removal equipment that exceeds the needs and expectations of each of Arrow's valued customers.
Feel free to visit  www.arrowstriping.com for more info.